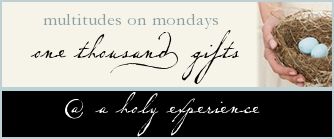 This week I am so very grateful and thankful for;
Coffeemakers bought on black Friday that FINALLY arrive in the mail... mmmm coffee.
Clean white streets in the
morning
and the joy it brings.
Sunday night Christmas programs that include handmade costumes, angels, shepherds, kings, and baby Jesus.
Treat bags filled with fruit.
Christmas cookies and hot apple cider with red hots.
Getting dressed up for church in dresses I found for $3 on clearance.

Sunday morning hymn sings in church followed by sermons that blow me away!

Watching the kids wrap gifts for their teachers and friends. Then watching them present the gifts. Seeing the joy in their face as they give instead of receive.

Anticipating time with family this weekend.

Birthday preparations for Maleah on Wednesday and baby Jesus on Saturday.

Giving plates of cookies away. Bye bye yummy calories.

Healthy, happy kids.

Projects getting completed in the house.

An ice shack that may be put to use this year.

A new recipe for birthday treats. I am gonna change this one up with some flax seed!

For my Aunt Patty and her battle with the bully.

For my sister Josie and her amazing ability to help me with anything I need help with...no matter what.

For my brother Ben and his amazing talent of making things.

For my dear dear friend Gene. I am not sure what my life would be without him. My family is so blessed to have Grandpa Geno. I don't tell him enough how much me means to me.

My wonderful, adorable, hard working and even harder playing husband whom I love dearly but have not gotten a Christmas present for.

Being content and even excited that my present will be watching my babies open gifts, hug grandparents and sing Silent Night. It will be the greatest gift of all.
Merry Christmas everyone!